When we made the decision to postpone our 111th Annual Dinner due to Covid-19 we came up with an innovative and exciting way for us all to meet online for a toast and a meal to celebrate Scott.
On Thursday 6th May we were treated to a dinner from the multi award-winning restaurant Wedgwood, whose
Head Chef, Paul Wedgwood, had devised a Scott-themed three-course menu just for us! Paul and his team prepared the meals and delivered them directly to us at our homes (even personally by the Chef himself for those of us living in Edinburgh).
After hearing a brief talk from Paul about how he devised the menu a Toast to Sir Walter was given by our Chairman Prof. Sir Iain Torrance. [Text available to read here]
His Menu for the Club is shown below.
See the higher quality version of Paul's talk here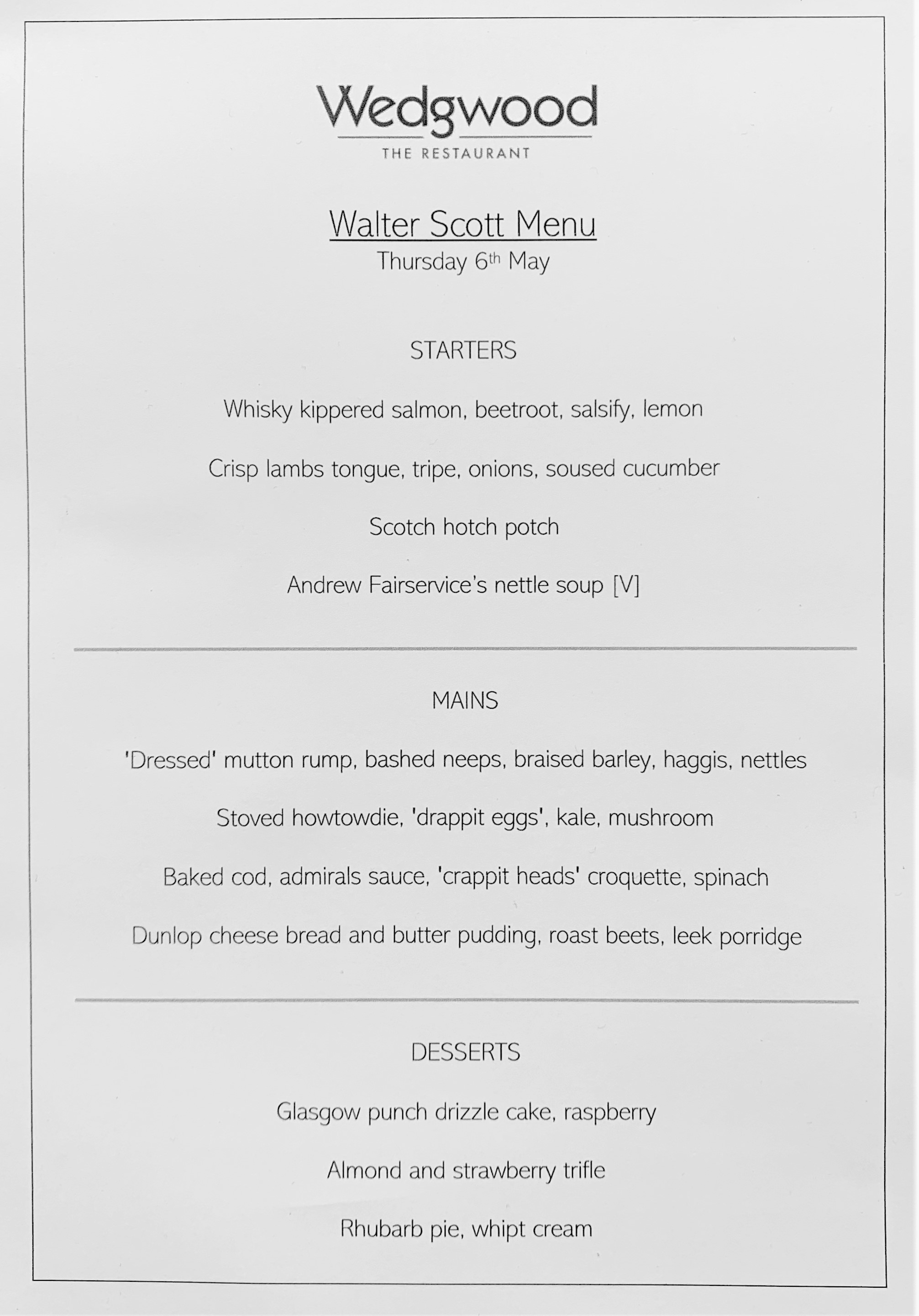 STARTERS
Whisky kippered salmon, beetroot, salsify, lemon
Crisp lambs tongue, tripe, onions, soused cucumber
Scotch hotch potch
Andrew Fairservice's nettle soup
...........................................
MAINS
"Dressed" mutton rump, bashed neeps, braised barley, haggis, nettles
Stoved howtowdie, "drappit eggs", kale, mushroom
Baked cod, admirals sauce, "crappit heads" croquette, spinach
Dunlop cheese bread and butter pudding, roast beets, leek porridge
..............................................
DESSERTS
Glasgow punch drizzle cake, raspberry
Almond and strawberry cream trifle
Rhubarb pie, whipt cream