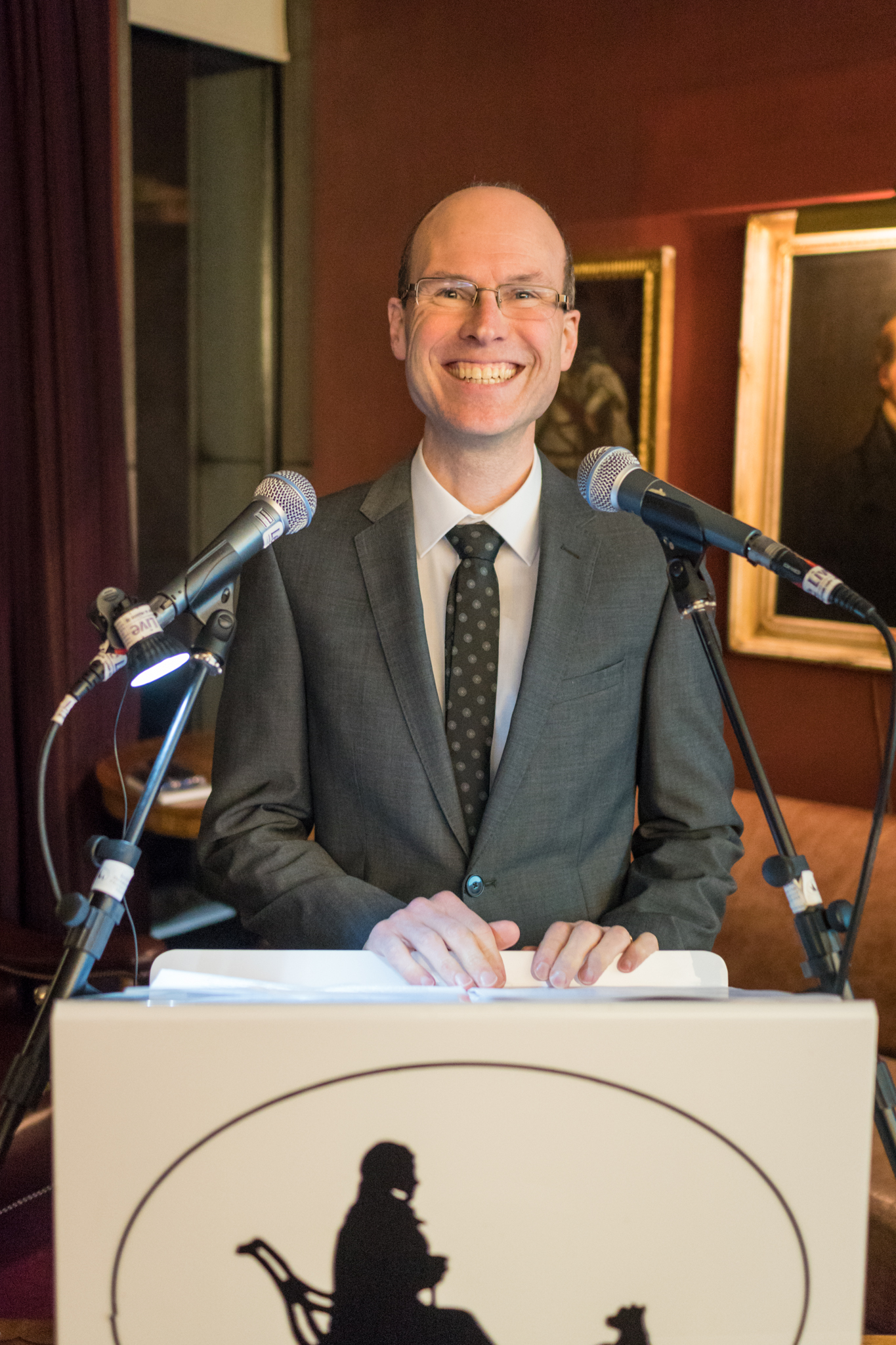 On Thursday 2nd February 2017 we had a talk by Dr. Ewan Morris. He was introduced by our Chairman, Prof. Peter Garside: (Video below)
Welcome to the first meeting of the Club's 2017 programme, at which we shortly have the pleasure of hearing Dr Ewan Morris giving a talk on Sir Walter Scott and Place Names in Australia and New Zealand. Also congratulations to everybody here for assembling on what (as anticipated) turns out to be a fairly dreary early February evening in Edinburgh.
At the Council meeting in Autumn where we plan the year's programme, there is usually some debate about whether we should hold a talk prior to the Annual Dinner in March or not. One of the arguments against is that there is too little time after the Secretary's Letter announcing events to members, usually sent out in early January, for applications to be made and tickets prepared and issued. Here then this year I must thanks the stalwart efforts put in by our Office-Holders, Louise Gardiner and Lee Simpson, in expediting the process and so helping make this present evening possible.
Another advantage in having a relatively early start is that it allows us to respond more quickly to events that have taken place since our last meeting, which in this case was Tom Mole's talk on the Scott Monument in November. Members will surely already have heard of the sad news of the death of Tam Dalyell late last month at the age of 84 after a short illness. Tam was the Club's President in 2004, and in 2009 recorded for the Club a reading from Redgauntlet concerning his famous/notorious ancestor General Dalyell—which Lee has recently reinstalled on the Club's website. I have my own more personal recollection of Tam Dalyell, which I thought I might briefly share with you. A few of years ago the Edinburgh Bibliographical Society visited the Binns, where we were kindly and attentively shown round by Tam and his wife Kathleen. Not untypically I'm sure, Tam had done his homework, and knew who we were and what we were about, this including my own interest in Scott. Having spotted a set of the Waverley Novels in the shelves, I subsequently sent the couple a copy of the recently published, EEWN-based 200th Anniversary Edition of Waverley (EUP, 2014), and a few weeks later (unexpectedly, since there was no need to extend the exchange) received a letter from Tam, including the following kind words: 'Forgive the tardy acknowledgement of Waverley. (I have been in St John's Hospital.). I have dipped into this formidably scholarly work, which illuminates Sir Walter. It will have an honoured place next to the Scott volumes at the Binns.'
Now to our present speaker (to whom apologies for the length of the preceding preamble). Dr Ewan Morris is originally from Australia but has lived in New Zealand since 1999. He is a historian with a particular interest in ideas about national and ethnic identity, as revealed through debates about symbols such as flags, memorials and place names. He is the author of Our Own Devices: National Symbols and Political Conflict in Twentieth-Century Ireland (2005), and a co-author of The Oxford Companion to Australian Military History (second edition, 2008). He has also published a number of articles in Australian, Irish and New Zealand history, and is the immediate past President of the Professional Historians' Association of New Zealand. In New Zealand, he works as a Senior Policy Adviser at the Ministry for Culture and Heritage. He is currently living temporarily in Edinburgh, where he is a Visiting Scholar in the School of History, Classics and Archaeology at the University of Edinburgh. His talk, the title previously mentioned, will no doubt feed on his connections with both Australia and New Zealand, and promises to offer members an interesting new insight into matters relating to Scott's international legacy.
Download the text of his talk here or watch the video below
Above Image Copyright "Lee Live: Photographer" (Used with Permission)